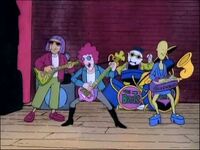 The Beets are a popular band featured in Doug. They are popular among the kids of Bluffington, and the favorite band of Doug Funnie, Porkchop, and Skeeter Valentine.
Members
Songs
"I Sneezed On My Face" (mentioned)
"My Foot's Asleep" (sung by Skeeter in "Doug's Hot Ticket")
"Zombie Girlfriend" (mentioned in the book, The Funnie Haunted House)
Albums
Beets Me (from "Doug Rocks")
Beet the Heat
The What Album (from Doug's Big Game)
Let It Beet (from the book, Doug's Treasure Hunt)
Meet the Beets (mentioned in Doug's Big Game)
Appearances
Trivia
In "Doug Rocks", it's stated that Wendy Nespah is the lead singer, however, in all their appearances it seems to be Munroe Yoder who is the lead singer.
Their original name was the "Pickled Beets," a spoof of the Silver Beetles.
Fans of the band are referred to as "beetniks", a parody of beatniks.
They are a parody of the popular 1960's rock band The Beatles, but their sound is a parody of the Ramones. Munroe Yoder is based on John Lennon while Chap Lipman is based on Ringo Starr. Flounder and Wendy Nespah are based on Paul McCartney and George Harrison, respectively.
The Beets' first #1 single was "I Sneezed On My Face", a parody of "I've Just Seen a Face."
The Beets' album "Beets Me" features a very small picture of Chap Lipman after his gallbladder surgery.
Nickelodeon has released a few music videos using their songs with clips from the show.
Gigi Amici is Wendy Nespah's pet fruit bat.
Munroe is a phonetic anagram of Ramone.
The What Album is a parody of the Beatles album, The White Album.
"Let it Beet" is a parody of "Let It Be".
Meet the Beets is a parody of Meet the Beatles.
Community content is available under
CC-BY-SA
unless otherwise noted.