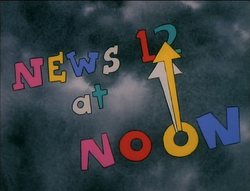 News at Noon was a student-run news show at the Bluffington School. It was first seen in Doug's Big News.
Background
Mrs. Wingo's class put together a news show for the school. Although their class thought it was good, Mr. Bone was not happy with it. The following day, Roger attempts to use the broadcast to "butter up" Mr. Bone and then shows the tribute video the class worked on, and credited it to himself. Meanwhile, Roger had tampered with the pre-written news reports, so Doug announced that "Mr. Bone wears pink underwear" over the air. Mr. Bone fires everyone but Roger from the news show which caused everyone to get mad at him for sabotage.
The next day, Mr. Bone and Roger host their own version of the show from inside the assistant principal's office. Doug comes up with a plan to get Roger fired and them to get their own show back. They bought Mr. Bone a "present", which they knew Roger would hand to him and take credit for. When the show broadcasted that day, Roger hands Mr. Bone the gift only find out there was a pair of polka dotted underwear inside. Mr. Bone fires Roger from the show and assigns him detention.
The following day News at Noon returns, this time with Mr. Bone being a co-anchor. He also introduces a new segment called "Crime and Punishment" which the camera cuts to Roger writing on the chalkboard in detention hall and yelling at the camera.
Members
Doug - Anchor
Patti - Anchor
Connie - Director
Chalky - Lights/Sports segment
Skeeter - Weather segment
Beebe - Shopping segment
Roger - Gripe Time segment
Willie - Unknown; but he was see holding a clipboard so possibly director's assistant.
Boomer - Light setup
Ned - Light setup
Unknown boy - Camera
Unknown girl - Segment pictures
Mr. Bone - Anchor
Trivia
Several errors happen during the broadcast:

The peel clock hands on the chalkboard accidentally swing down.
Chalky gets ran over by a group of students playing football during the sports segment.
Beebe uses her segment as a platform to announce her birthday present wish-list.
Skeeter standing outside in front of a rotating sprinkler system but mistakes it for "crazy weather".
The boy in the charge of the camera kept moving in different directions and had trouble focusing it.
The same boy also put the "surprise tribute" card in front of Doug and Patti's face, causing the latter to push it down.
The girl who was showing the pictures of the upcoming segments to the camera accidentally sticks her head into the shot.
Patti and Doug casually talking before realizing the shot is back on them.
Community content is available under
CC-BY-SA
unless otherwise noted.