Welcome to the Doug Wiki!

472 articles since July 21, 2011.
This wiki is about the Nickelodeon/Disney show Doug, created by Jim Jinkins! Before you begin editing, please take a look at our manual of style in order to get the most out of your edits! To get started, take a look at some of the below links!


Trivia
Did You Know...
...that Roger's mother drives a monster truck?
...that Porkchop lives in an igloo and has his own mailbox?
...that Mr. Dink's real first name is Bud?
...that Fentruck was able to come to Bluffington due to his yodeling group funding his trip?
Poll
What is your favorite song by The Beets?
Featured
Episode
Doug Bags a Neematoad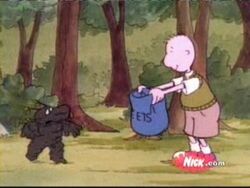 Doug Bags a Neematoad is the first episode of Doug that debuted on August 11, 1991. Read more>>
Blogs
Create blog post
Blogs
Hey everyone, I am Zmario. Several years ago I founded the Doug Wiki in hopes that it would become a database for all things Doug-related. Over the years, this wiki has grown and become a great resou…

Read more >


Hey twenty-somethings! Did you enjoy Doug as a child? One former watcher in particular seemed to enjoy it, and not only enjoy it, but see it from a psychological point of view.

An anonymous and cleve…

Read more >
See more >